Day 1: Education in Schools
Welcome by Dr. Sooful (EVC Chair)
Welcome by Prof. Sandy Africa (Deputy Dean: Teaching & Learning – University of Pretoria)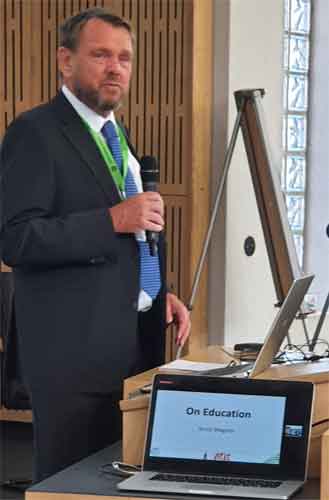 Ernst Wagner: Keynote on Education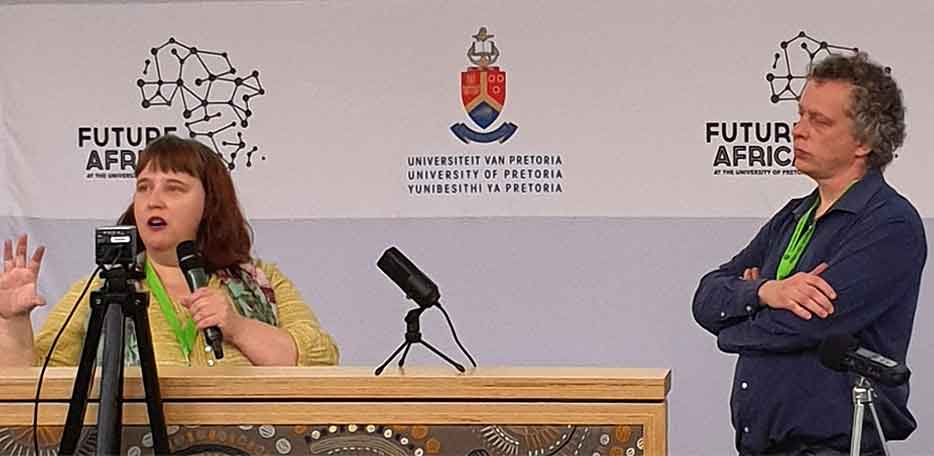 Alison Kearney & Cameron Harris: Creating encounters in the field of exhibition
Artworks can be thought of as material conduits for engagement with the immaterial. Being material expressions of their makers' ideas, artworks make the imaginary, socio-political, physical and spiritual worlds that artists explore, tangible. When traces of fracture are present, the ways that artists express their thoughts through manipulating materials, are made visible. Curators propose ways of interpreting artworks by creating novel relationships between works of art in diverse exhibition contexts. The ways in which the material and immaterial are entangled in artworks are also evident in the relationship between musical instruments and the sounds they produce; a relationship that is compromised when musical instruments become part of the museum collection and can no longer be played. In this paper, we explore how relationships between the seen, the invisible, and the audience were made explicit, and how various educational interventions created opportunities for critical encounters with the (im)material in a recent exhibition that we collaborated on for Wits Art Museum. We consider what strategies can be used to make the invisible nodes of connection between the material and immaterial apparent in the field of exhibition. We begin with a brief discussion of the selection of artworks from the Wits Museum Holdings. Then we unpack the curatorial strategies for making the ways of seeing in art museum spaces explicit. This is followed by a description of the interactive sound installation created as an intervention to 'un-silence' the musical instruments in the museum. Finally, we explore the ways that students respond to the exhibition as iterative expansions of the intersections of matter, concepts, spirituality, and agency that the exhibition proposed. We conclude by reflecting on the affordances of making audiences' encounters with art explicit in the field of exhibition.
Christian Römmelt: Learning from drag practice: Queering Art Education. Perspectives from Germany
Initially part of the queer subculture, drag has become mainstream in some countries of the Global North. The US reality competition show Ru Paul's Drag Race consistently breaks viewership records, and Heidi Klum, a German model, hosts the German-language prime-time copy of Queen of Drags. Drag brunches are a popular entertainment program at bachelorette parties, and in 2014, drag artist Conchita Wurst won the Eurovision Song Contest for Austria. At the same time, conservative forces are calling for a ban on children's readings by drag queens in public libraries for fear of "early sexualization" of children. This new visibility is ambivalent: Drag understood as a queer practice of unsettling "normality" in a humorous, entertaining way, is perceived as a threat by a part of society. Is a pop phenomenon becoming dangerous? It is these tensions that make drag as a visual culture interesting for art education not only as a field of learning but also as a practice. How can we as art educators contribute to queering dominant notions of normality through humorous and at the same time irritating art education interventions? How can art education be conceived and designed as a place of empowerment for minority groups? How can we promote an attitude that values queer identity and is tolerant of ambiguity?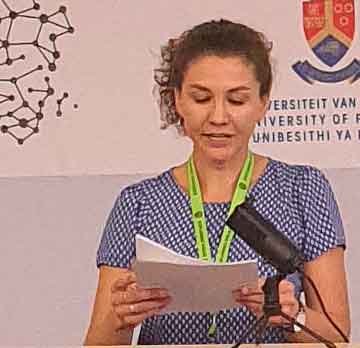 Michaela Almog: Approaching gender matters through art education at elementary school age
The development of one's self-concept and identity is closely related to the perception of their body and corresponding image. As constructions of gender are conveyed through the body, art education can utilize the body as a subject to address these concepts. I suggest to already tackle this complex relationship between one's body and identity at elementary school age. Specifically, before young people discover their gender identity and the gap between the nature of one's body and social ideals becomes a critical issue for them. Whether children can develop a positive body image depends, among other things, on the variety of physical sensations and experiences they are exposed to. Therefore, I would like to propose some ideas for an art project for elementary schools which do not focus on a cognitive approach, but a physical one. That draws the attention towards the movements and inner sensations the body is capable of. The project aims to experiment with alternative designs of physicality. The students design a fictitious version of their own body using self-created costume elements. This enables them to experience a variety of body images and identities playfully.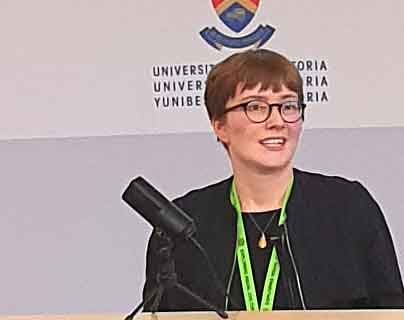 Nicola Pauli: Gender as focus in a theme-centred approach for art education
The presentation for the (A)Gender Matters - Conference in Pretoria is supposed to contribute to discussions about the potential of a thematic focus on gender in art education. This specific topic is discussed in comparison with possible educational goals in art perception (school/museum education). As a first step, the general potential of theme-centred approaches to art education is outlined and as a second step, the presentation focuses on aspects of a gender-sensitive education through artworks within this approach. Especially when it comes to gender-sensitive education that unfolds the social construction of gender stereotypes and aims at fostering sensitive identity formation thematically selected artworks incorporate high educational benefits. They not only contribute to perceiving individual differences but also to recognizing gender-typical patterns and structures. A gender-sensitive art education can therefore be seen as future-oriented towards a diversity-sensitive society in which tolerance towards different gender identities is lived. The thematic approach as an educational method also promotes an understanding of art as an integral part of human lives as topics such as gender are not only processed within artworks but also in everyday life.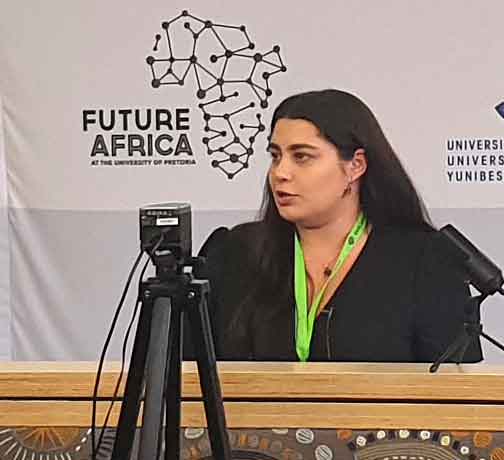 Nikita Pereira: The proscription of Black women artists in the South African FET Visual Arts curriculum
This study interrogates the proscription of Black women in the Further Education and Training (FET) Visual Arts curriculum of the Department of Basic Education (DBE). This proscription or 'intentional invisibility' occurs in the curriculum as the valuable contributions of many Black women are either misrepresented or completely disregarded. To successfully analyse this proscription, the study outlines the various ways in which the proscription of Black women has been affected and influenced by the historical roots of patriarchy, racism and sexism in South Africa. The Visual Arts curriculum has been revised post-apartheid; however, I argue that the attempts at reform and decolonisation have not been successful and that the current Visual Arts curriculum is not inclusive of the histories of Black women. This study posits that although there is surface-level visibility of Black women when it comes to their inclusion in the curriculum, there is still no tangible inclusion in terms of a decolonised curriculum. This study interrogates how and why curricula become and remain static. This interrogation communicates how policy and curriculum makers attempt to decolonise the content of the Visual Arts curriculum, and how they fail to do so through poorly veiled attempts at the inclusion of Black women.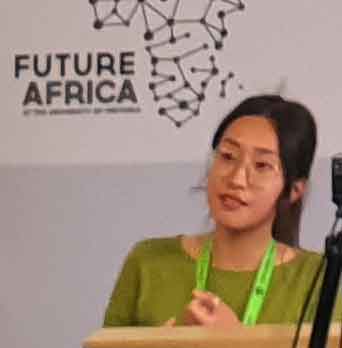 Mina Ton: Mediating Euro-centric focus
The living environment of children and young people is characterized by diversity of backgrounds and cultural affiliations. In today's changing world, which is becoming increasingly interconnected through digitization and globalization, new visual and media landscapes are emerging, influenced and intertwined with each other, challenging conventional approaches to art reception. In German-speaking countries, art education concepts often rely heavily on a European and Anglo-American understanding of art. Therefore, this project focuses on examining the practices of mediating visual-aesthetic and artistic objects on the EVC platform. These texts, which discuss these objects (more to come), serve as the qualitative-empirical data for the research project "Concepts of Art Education." The project aims to investigate the technical, pedagogical, political, social, and subjective biographical arguments that influence the selection of artworks in specific educational contexts. Preliminary findings and research outcomes can be presented. Discussing gender as a category of visual analysis could also be of great interest in this regard and open up another field of research. By doing so, it seeks to understand the goals associated with these mediation considerations and the content that should be conveyed to different learning groups. Furthermore, the project explores the justifications for the selection of works from various perspectives, such as transcultural, global, national, and so on. Through this research, diverse approaches and mediation perspectives will be identified and developed to include non-European viewpoints. Ultimately, the project aims to foster multi-perspective, global, glocal, and transcultural approaches to visual-aesthetic imagery.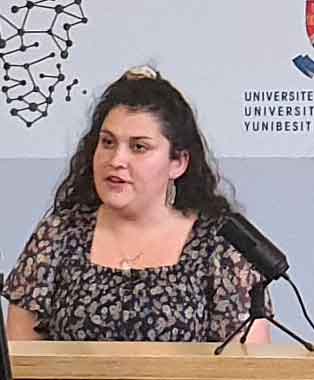 Sonel Kleinhans: Building South African collective historical memory: Role of social movements through visual arts education practices
This study examines the process of developing a collective historical memory, in terms of social awareness, mutual acceptance, assimilation, integration, and harmonious symbiosis between 'Us' and 'Them' in South African society. South Africa is a country that fosters a heterogeneous, multi-cultural, historically deeply segmented society. In this context, the research will examine the role of social movements in the development of the collective historical memory through the analysis of #FeesMustFall (#FMF), #RhodesMustFall (#RMF), and #BlackLivesMatter (#BLM), their unifying dynamics, their thematic introduction in the Visual Arts class, and their impact on teachers/learners' interaction. The subject matter is approached from three educationally important angles: a. Critical analysis of the controversial concept of collective historical memory in the South African cultural and historical context. b. Critical pedagogical viewpoint about the dynamics of the #hashtag platform to organise constructive social movements, by attracting public participation, evoking social empathy, and facilitating open social communication. c. The educational role of Visual Arts approaches in developing critical thinking, and creativity, is socially relevant to collective national consciousness, in terms of community needs, collective protests, and social awareness in the South African socio-historical context. The study assesses the collective influence of the 'hashtag' approach and its power to cause transformation and innovation in the South African educational system. The research uses the findings of the relevant study to substantiate the views of the teachers in the Visual Arts classroom on social movements and the learners' interpretations of the # symbol that was given as a practical examination theme by the educational authorities in 2020.

Sipho Mdanda: The mentorship of David Koloane and the impact it had on improving access to alternative art education in South Africa
The mentorship of David Koloane and the impact it has had on improving access to alternative art education in South Africa. Black South African people were denied quality and equal education in South Africa by the promulgation of two segregationist laws. They were the "Bantu Education Act No:47 of 1953 and "The Extension of University Act No:45 of 1959. These laws ensured the curtailment of equal education between black and white citizens of the country. Black schools were allowed to study crafts as per the homeland region in which each school was located. The reason for prescribing crafts for black people rather than art was that art was of a high standard reserved for Europeans. This led to the segregation of syllabuses between white and black schools. This denialism has had serious repercussions for the development of black artists and art in general in South Africa. The end of World War II in 1945, wrought two positive outcomes. White liberals, who were opposed to apartheid education policies started mentoring black artists in institutions like Polly Street, Rorke's Drift Arts and Crafts Centre. On the other hand, the influx of European immigrants into South Africa, running away from the European war, also weighed in to support black artists with mentorship as they too, despised apartheid. This paper will demonstrate how David Koloane and his associates, devised strategies for subverting the apartheid education policies to afford black artists alternative art education through mentorship and workshop methods. I will outline the devastation the implementation of Bantu Education had on the development of art education for black people, highlighting how institutions like Polly Street, Rorke's Drift and later the Art Foundation, offered black artists alternative art education. Finally, I will show how the external mentors' intervention through the empowerment of David Koloane brought about change to many black artists' plight.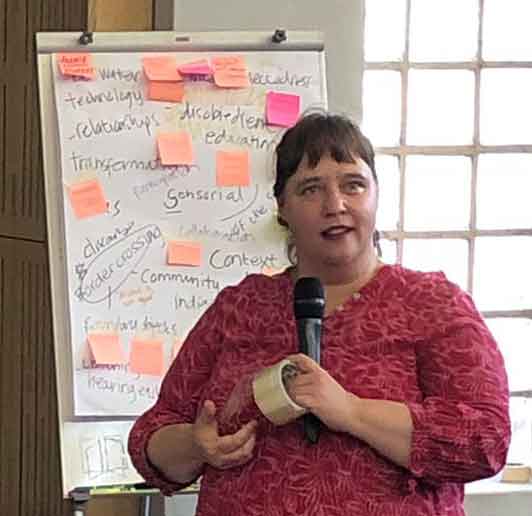 Alison Kearney: Wrap up and Reflection