Day 3: Visual Arts

Brendon Bell-Roberts (Art Africa): Keynote on Visual Arts

Zainab Bello & Naomi Haruna (online): Woven narratives - Visual design as a language of communication in textiles
Visual design plays a crucial role in textile communication, serving as a powerful tool for conveying messages, emotions, and cultural
significance. The paper highlights the fundamental elements of visual design in textile art, including colour theory, typography, and patterns.
Using principles of semiotics, it further examines the influence of cultural references and the integration of traditional and contemporary
design approaches in textiles. The paper delves into the role of visual storytelling and the psychology behind creating emotional connections
through African textiles which were mostly designed by indigenous people. The paper examines the significance of African textile print among
women in particular. It also discusses the intersection of technology and visual design, demonstrating how advancements have expanded
the scope of textile communication. The paper uses images in form representations to show the complex interplay between visual design
and communication in the field of textiles and highlights its significance and potential influence in various contexts in its conclusion.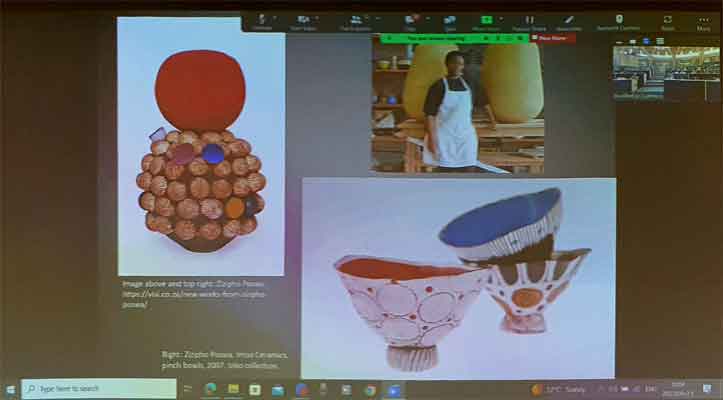 Esther Esmyol (online): Bumba udongwe – working with clay: contributions by South African female ceramic artists
Historically women were the creators of pottery. By the twentieth century, this situation had changed significantly with ceramic making no
longer being confined by gender. Twentieth-century South African ceramics history is however often overshadowed by the role of male
'pioneer' studio potters. This paper will focus on the contributions of South African female ceramic artists, and in particular, the role women
play/played in collaborative pottery projects. Such projects were evident during the Bumba udongwe – Working with clay exhibition series
which took place in Cape Town at the Iziko Museums between 1998 and 2002. The collective power of women will be illustrated by examples
of female-run pottery projects, such as the Genadendal Pottery Project where local women create vessels reminiscent of indigenous Khoe
pottery; and Zizamele Ceramics in Noordhoek where women work collaboratively in creating ceramic products - the 'Bambanani' bowl being
Zizamele's best-known product, symbolizing the solidarity of women working together and supporting each other.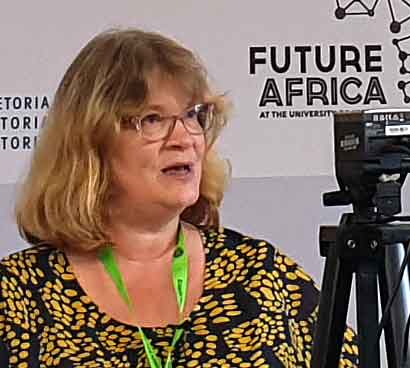 Kirsten Rüther: The burial of Dennis the Goat: Re-engaging with the narrative of the South African transformation
Dennis the Goat was a dandy, known to many for his eccentric behaviour and the glamorous lifestyle he pursued. He made people laugh,
caused many a smile. In some of his fellows he aroused curiosity, others were openly angry. One of his foibles was that he loved smoking
cigarettes, be it Craven A Menthol or a self-drawn cigarette offered to him by his friends. When it came to drinks, he preferred Castle Milk
Stout, a truly masculine drink. He loved to sit in the front of a car next to his trusted driver, Xolani Sabelo, who presented himself as the
owner and "father" of Dennis the Goat. His existence also attracted some media attention when a handful of journalists "discovered" this
goat's (and his owner's) lived eccentricities and turned them into tales for newspapers, the radio and even television. The tales always went
with photographic images. Then, suddenly, and to the shock of many, death rushed in. In the early hours of August 14th, 1992, Dennis' dead
body was found in the streets. A media hype unfolded around his burial, the night vigil held for him and his possible incorporation into the
Natal Museum's animal collection – all of this at a politically extremely fragile moment in South Africa's and Umlazi township's history.
Dennis' story is one to be enjoyed, one to be left behind and forgotten, one to be taken up and re-emerging sporadically. I am rendering but
one version of the story of Dennis the Goat's burial and what it is telling us about laughter and pain, mourning and humour, aspects which
forcefully pertained to the South African transformation period but which became sidelined, and even fully neglected, in the official
transformation narrative.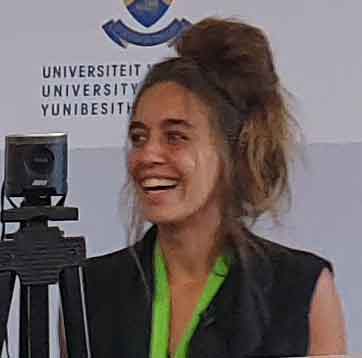 Thais Machado & Isadora Canela: Water Bodies - Exploring interconnectedness and transformative art in the Anthropocene
Facing the Anthropocene global challenges involves understanding other possible agreements between human-humans and human-nonhumans
that go beyond the mercantilist and colonial logic. In this sense, Donna Haraway, American biologist and philosopher, meets the
Brazilian indigenous leader Ailton Krenak when they propose exchange, care, and affection as a starting point for dealing with the social and
environmental crisis of the contemporary world. This theoretical field is present not as the center but as an element of the subtext of what
was experienced in the artist residency at Documenta Summer School 2022 in the context of the EVC project. Nine artists from different
continents, countries, cultures, genres, colours, and research meet to create collectively. The 10th element that joins the group is water, or
more precisely water bodies, the central subject for creation. From this encounter, what physical and symbolic borders are crossed? How
does the collective body organize itself? In what way does art become a link and action? What aesthetics and visualities are formed in the
nuances between individual and group? Micropolitics, art, encounters and new symbiotic agreements. This manifestation reflects on tangible
structures that germinated in the experience of the collective construction of the Water Bodies exhibition.
Flora Mutere (Online): Finding our way Home: shaping of identity, creating belonging in Nairobi
Nairobi continues to endure the presence of historical references of colonial legacies - a point of concern in memory preservation work as
this displays an imperialist suppression of the representation of the indigenous Africans in the city. This neglects the present culturally
conscious Nairobians' aspiration to uproot, re-claim and profess ownership of memory, identity and knowledge in urban places that indigenes
inhabit. Examined here are sites of memory similarly undergoing a challenging process of transformation from hegemonic institutions to
decolonizing and polyphonic "contact zones" wherein societal relationships to the spaces that groups inhabit are revisited and equalized. In
this same spirit, this paper will explore Afro-feminist(s) frameworks proposing to draw independent analogies from everyday rhythms
anticipated in an urban settlement process. The focus is on social and spatial imaginaries that reconstruct relevance through re-enactments
based on railway workers' everyday lives, asserting that reclaiming post-colonial landscapes begins with explicit acts of remembrance through
experiences of the working class that seek to advance an urban agenda of shaping identity and creating a sense of place. Furthermore,
engaging Afro representation will indeed enable the study of serviceable definitions, as Aseka (1990) insists, for what constitutes belonging
of the indigene to urban landscapes.

Lis Haddad (online): The feminine protagonism in artistic-artivist practices in the Capitalocene Era – A look at the Jardinalidades Project
This paper proposes to reflect on female protagonism in the articulation of poetic-aesthetic-political actions in relation to the contemporary
urgencies of the capitalocene based on the articulations proposed by the Jardinalidades project in the ongoing edition between May and
June 2023. The Jardinalities project, created in 2015 by artists and researchers Faetusa Tezelli and Gabriela Leirias, is a theoretical and
practical research platform that considers gardening as an artistic practice with the potential to intervene in urban dynamics and activate
micropolitics. In 2023 the project is received by CCSP* in the form of a seminar. In addition to meetings with artist-activists who question the
dichotomization of nature and culture and look at what is not human as a resource to be explored, the event brings to light epistemologies
and cosmovisions of bodies that have been systematically silenced for centuries. For the development of this article, one action in particular
stands out, the immersion of seminar participants in Aldeia Kalipety in the Tenondé Porã Indigenous Land (SP), where female leaders
constitute an important articulating force and gender equity is a structuring premise of the community. This meeting is believed to be a
powerful force for the outbreak of practices that promote a sensitive education and the understanding of other modes of existence.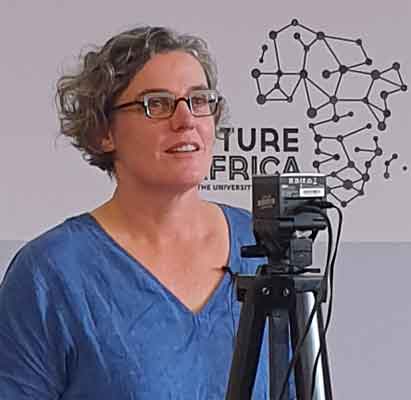 Hannelie Coetzee: Building a climate culture with art-science intervention
Artists' lead revolutions are active interventions where artists are activist researchers that lead transitions into eco-citizenry in various ways
around the globe. In this contribution, I will show how artists immerse audiences into opportunities to deliberately become more
environmentally aware (e.g., through visual media and video, using illustrative and engaging slides). A rigorous analysis of how arts reach
new audiences was undertaken by the artists in the Faculty of Science at the University of the Witwatersrand, Johannesburg under the
guidance of climatologist Coleen Vogel and medical anthropologist Lenore Manderson. The study interrogated artists' work and isolated
artists' intentions to reach more audiences which create opportunity for action. The session will also highlight the potential of Eco-art to help
citizens adapt to a warming world. Eco-artists and/or activist researchers' efforts in these domains will be discussed. How do eco-artists
interventions 'work' in praxis? How do such interventions 'show up' and manifest and how can researchers partner or collaborate with artists
to create opportunities to transition into a climate-sensitive culture? Centred on a transdisciplinary approach, examples of the artists'
approaches in working with complex wicked challenges will be highlighted. The session will show how art can add depth and authenticity to
science communication and citizen science as public experiments with a connective aesthetic. I have developed a relational art-science praxis
with various Nature Based Solutions (NBS). Growing up under apartheid, which built an unequal society, even infrastructurally, my life's
mission has been to learn how to unlearn and undo the wrongs of the past. Through my collaborative eco-art praxis, I find ways to build a
climate culture through regenerative art interventions. My work aims to contribute to such transformative NBS opportunities to build
resilience against the very uncertain future and an unjust past. Recent public interventions and experiments I can present during this session:
a. Urinals designed so that plants process the urea on the spot. In partnership with inner-city property owners, phytoremediation scientists
from WITS APES, and UJ PEETS pracademics. b. Climate culture project at the southernmost tip of Africa where plants cannot migrate further
south, with local Eco-Rangers. Metis AFD funded with Sanparks and Wendy Foden. c. PSHB replant tree list art-science project with Trudy
Paap (FABI). A project that germinated with A Still-Life – Johannesburg during the 2022 Social Impact Art Prize research period. d. Kwa MaiMai
– rare medicinal plant conservation with Nolwazi Mbongwa and other WildWall Tile installations.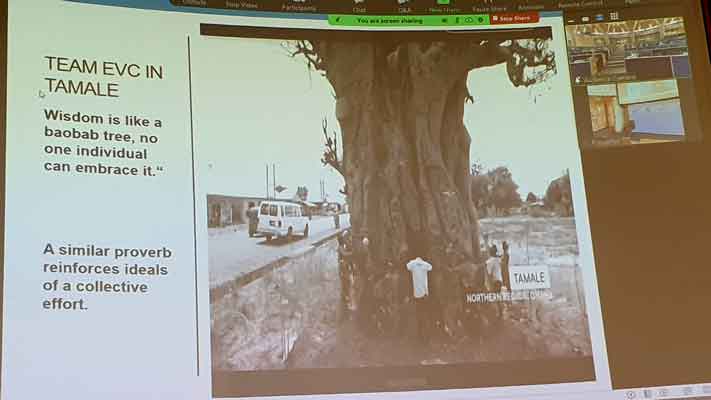 Gertrude Nkrumah (online): Contesting identity, reconciling culture - proverb as a conduit of indigenous knowledge and aesthetics
In Ghana, and most of Africa, proverb serves as an important source of rich information of knowledge production and embodiment of the
history and culture of the people. These are commonly held philosophical ideas and practices of that society. Indeed proverb arguably is one
major means of transposing indigenous knowledge and constitutes a key component of indigenous education before the introduction of
Western education which would later become known as formal education. Among the Akans of Ghana, proverbial sayings are often
encapsulated and woven around words that convey philosophical ideas and meaning. Proverbs are the fabric with which words are eaten. In
most of Africa, proverbs are deeply embedded in all facets of society and are used to explain ideas and philosophies that underpin the
society. Though abstract, proverbial sayings are cleverly constructed to capture and create vivid images in the mind's eye. Thus, proverbs
serve as a major source of African knowledge production, a basis of indigenous aesthetics and one means of learning and teaching about
Africa from a perspective that fully acknowledges indigenous knowledge and is representative of Africa. This paper seeks to review some
selected Akan proverbs by analysing the visual association of words and conceptual ideologies encapsulated in some selected Akan proverbs
and further addresses how proverbs serve as one key means of knowledge production and a conduit of indigenous cultural and social values
by reinforcing the significance of indigenous language as retention of knowledge and as a cultural and identity marker.

Eva Chikabadwa: Visualising M'bona religious beliefs and practices - A visual cultural artistic co-production with the custodians of
Khulubvi and associated rain shrines in Nsanje, Malawi
Nearly a billion people, two-thirds of them women, entered the twenty-first century unable to read a book or write their
names. Their illiteracy will limit their earning power and affect a range of other social and economic variables. (Verner.2005).
The World Bank claims that one of the main reasons why Africa has remained underdeveloped is illiteracy. In simplest terms, illiteracy means
having little to no knowledge of reading and writing. In other words, not know about official meaning-making and mark-making. Mark making
through image making is basic to every human being as proved by ancient history, however, it has been seen as a lack of civilisation as
observed by Denise Schmandt Besserat (1992: 7). In this case, civilisation meant the abandonment of the basic means of mark making and
meaning making to more sophisticated ones giving birth to different writing systems that are seen as official today. How has this trend
affected other communities that did not devise these systems in culture and heritage? Is oral history reliable? What are the benefits of imagemaking
as a mark-making and meaning-making technique against the official mark-making and meaning-making techniques in culture and
heritage research? These are some of the questions that are being tackled in the Visualization of the Mbona religious beliefs and practices.
The study seeks to involve the local communities to preserve their culture through image-making as a basic means of mark-making and
meaning-making for heritage purposes through the establishment of a local museum.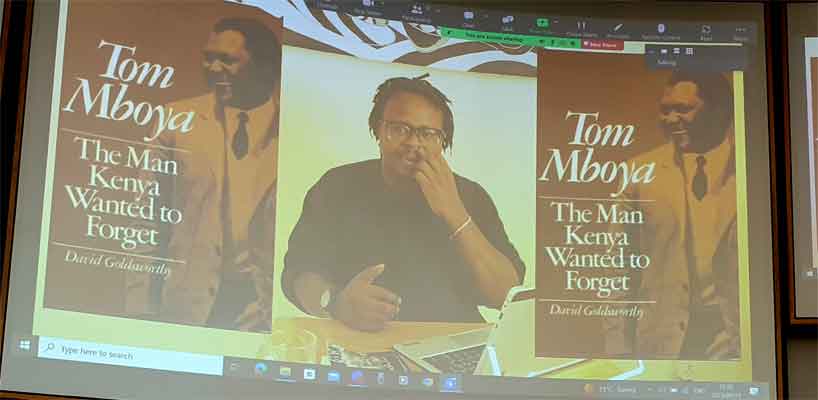 Fredrick Mbogo: Performing man on Kenyan stage and screen - How directors "exploit" Ywaya Xavier's physique
This paper is interested in how a body of work by Ywaya Xavier, a Kenyan stage and screen actor, suggests what it can mean to be a man. It
argues that stage directors have taken advantage of Ywaya Xavier's physique to carve out ideas on preferred Kenyan masculinities -at least
in the last five years. In Luanda Rockman (2018) and Tom Mboya (2019), Xavier plays characters that have mythical and legendary status, but
with a hint of ethnic Luo sensibilities. This theme is also pursued in Irregardless (2022) with a tinge of political idealism in it. At the same
time, both Dead Talk (2017) and Thieves as Humans (2018) point to situations where a man must exhibit violence, or even a sense of living
on the edge, to come out a winner. The paper argues that directors have tended to employ Ywaya Xavier to explore or imagine ways that
heroes are made especially where what is masculine is under threat from emasculating powers. But this depiction of man is fraught with
problems particularly as regards the idea that a man is so many other things apart from being macho, or an overt go-getter. Yet without this
exploration of aggression, what aesthetic appeal could the costumed physique of the actor amount to? A discussion of his depiction of a
character in Kina, an ongoing television series on M-net, and another in the film 40 Sticks (2021), generates a nuanced reading of the
possibilities of performing a semblance of "acceptable" Kenyan manhoods.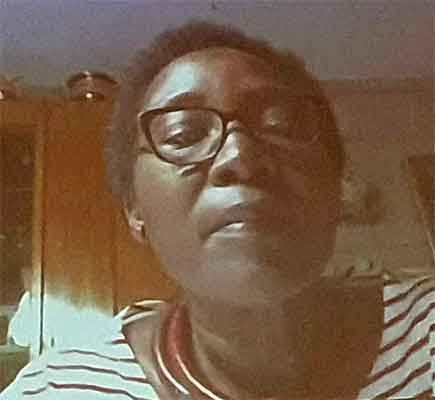 Winnie Oyuko (online): Representation of women in advertising - A gender perspective
The ephemeral nature of a billboard makes it an accessible, adaptive promotional material, as opposed to the more sophisticated advertising
media employed for the promotion of an idea, product, or event put up in a public space for mass consumption. Billboards provide a stimulus
for people to engage and interact in ways that can be attributable to material agency. Conversely, billboards have a voice, language and life
of their own, forming borders around roads and residential areas—referred to by Nida Rehman (2020) as "imbrications of the human and
non-human" of the perspective of society. This paper seeks to elucidate the representation of women in Kenyan society, with a focus on the
women on billboards. Is there a generational way of reading images of women? Are they read as aspirational, reflecting experience, and or
what we hope to get? Is the woman on billboards there in her nurturing, motherly role or there to sell artwork, products or commercial
purposes? Women on billboards have to sell many things. The generational reflection this brings about is both a complex and evolving topic,
shaped by various factors such as cultural norms and societal expectations, which have evolved. This paper seeks to explore the
representation of women to answer the issue, through experiential knowledge and literature review.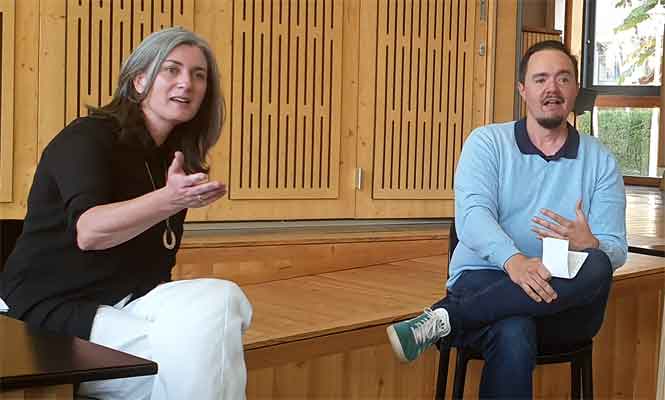 Book Launch @ Future Africa
Jenni Lauwrens: Embodiment and the Arts: Views from South Africa