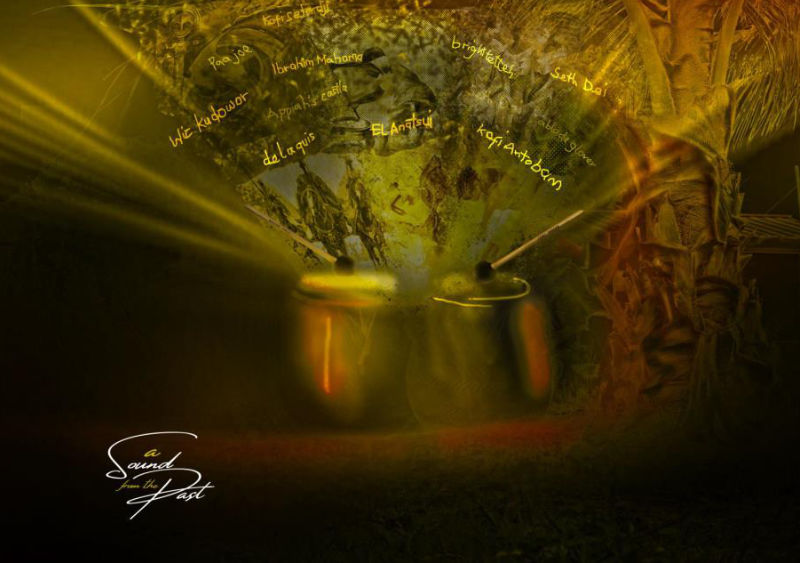 A sound from the past, digital art in photoshop
The visual image (A sound from the past) is composed of a scene having two drums with each drum showing a drum-stick on top of it, a coconut tree, images emerging from the drums and names of indigenous and contemporary artists surrounded by rays emitted from the drums.
Drums in the Ghanaian setting are seen as message vessels and therefore a clear and rapt attention is given by people whenever they are being played. Even in the absence of the mouth, the fontomfrom drums also known as the talking drums communicate messages to people through sound or tones.
Oldies and of-age folks in a Ghanaian rural setting usually sit under trees to relax and think about the future of their children, family, loved ones and the community. The placement and playing of drums under the tree are to give a message to the society and expect to impact the communities.
As the drums are played by a force emitted from the drum-tight animal skin and rays, the paintings of various indigenous and contemporary Ghanaian artists emerge with their names (Kofi Antobam, El Anatsui, Ato Delaquis, Ablade Glover, Wiz Kudowor, Bright Tetteh, Appiah's Castle, Paa Joe, Seth Dei, Ibrahim Mahama, and Kofi Setordji). This is to remind not only the art community of the past, art forms and how they were rendered through paintings. Both indigenous and contemporary artists are recognised in the Ghanaian society.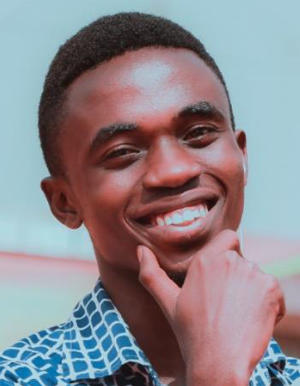 Boadi Aubameyang Gideon is a Graphic Design student majoring in Multimedia at the University of Education, Winneba in Ghana.