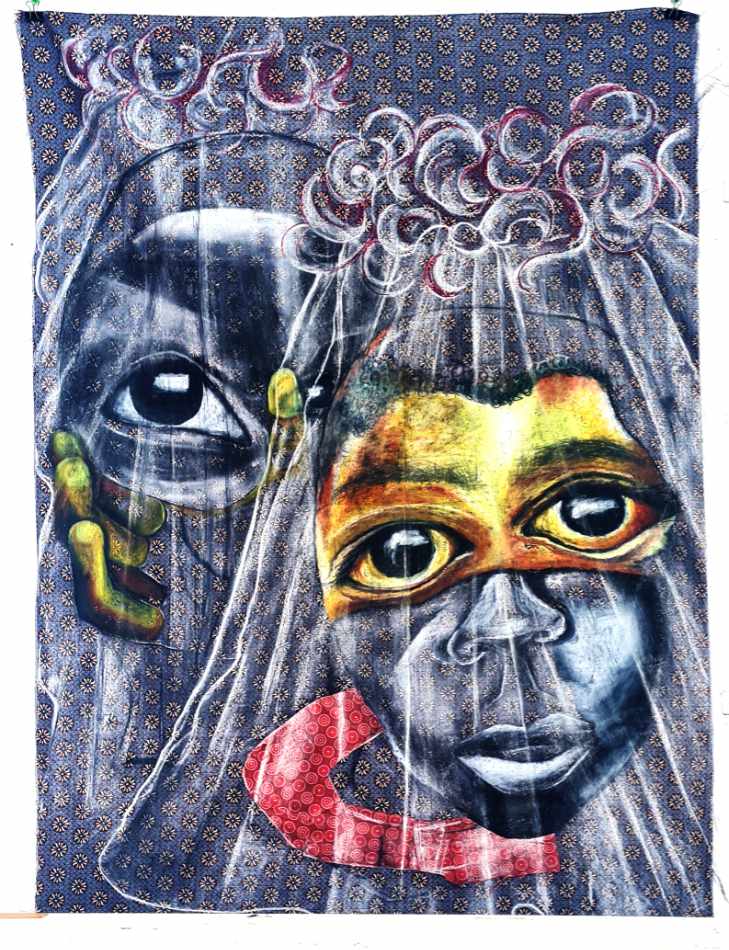 Boipelo Rethabile Cheka: KwaNobuhle, 2021. Charcoal, chalk and oil pastel on shweshwe fabric.
The artwork KwaNobuhle is part of a series titled Negotiating Existence. It is a collaged mixed media drawing on shweshwe fabric and comments on various methods of negotiation, through the use of different printed fabrics, different mediums, alteration of figures and the use of a colour palette in coherence with a monochrome palette. The composition is deliberately impractical with enlarged facial features to exaggerate the distortions. Negotiating these particular distortions - be it how the image will look or where certain features will be placed - forms a part of driving the narrative of how we as individuals negotiate our own identities and our own existence; as a result these figures are a representative of that. The fragility of the veil forms a contrast against the feel of the shweshwe and works hand in hand with the idea of existing methods to discuss distinctiveness.
The artwork explores visual cultures through working on shweswhe fabric as a surface, which artistically speaks on the identity of the Basotho culture and its customs, and personally reflects on my identity as a South African Mosotho woman. With that, I am able to extract information from both my past and present to create artworks that visually communicate identity issues concerning the black body and womanhood; and retell reinterpreted personal experiences.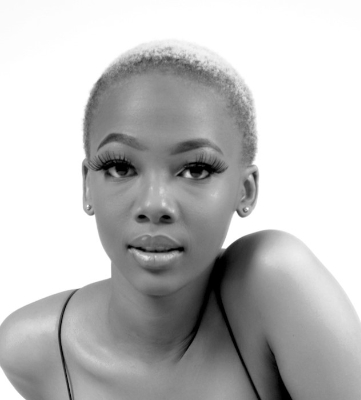 Boipelo Rethabile Cheka, (1999 Johannesburg South Africa), is a painter of South African descent whose creative practices and processes focus on producing mixed media, drawings and paintings. Her art draws inspiration from black body issues; themes surrounding womanhood, identity, photography and text. Cheka's practice is primarily centred on negotiating ones existence and identity in order to live. She is drawn to the concept of prevailing identity issues concerning the black body and womanhood. The relatively large-scaled drawings and paintings are her source of communication, to reinterpret personal experiences based of these themes.