Ishmael Boadi: Fattened in Greed
As artist, my works speak not only for me but other people suffering from hunger in other part of the world. A quote from Professor Patrick Loch Otieno Lumumba inspired me more to elaborate on my theme HUNGER. I quote: "The reason why Africans are suffering is because those who have the knowledge don't have the Power and those who have the power don't have the idea to implement it and so Africans are suffering."
I can see it and I tried to elaborate on it so we will know how hunger is affecting us. I followed my dream and created works on canvases in Polychrome and monochrome. My works are to emphasize the effects of hunger on children in Africa. Hunger leads to mental, emotional and physical development delays and disorders and it is a cause of high infant mortality rate in Africa. Hungry children are more prone to illnesses and infections.
The first painting is a monochromatic painting of the size 4×3 feet. It depicts a child holding a bowl of small food with hungry face. On the second painting, a child is sitting on the floor holding a calabash with roasted plantains in it. And the last painting is a self-portrait in Polychrome. It shows how I am looking forward for a better Africa.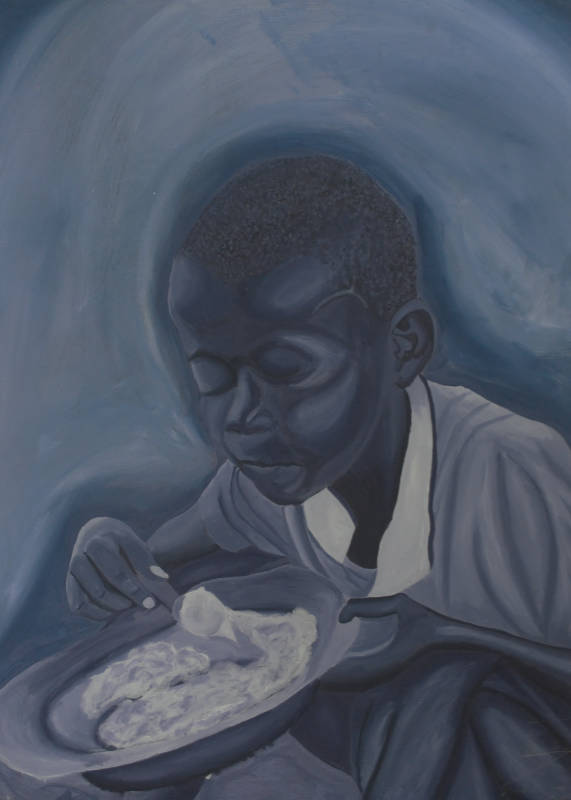 Ishmael Boadi: Lacking in Abundance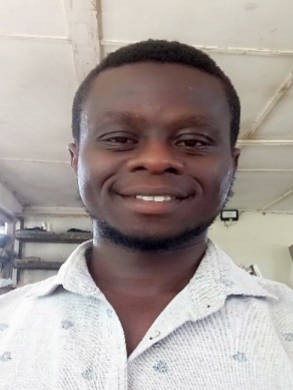 Boadi Ishmael is my name. I am 28 years of age and a citizen of Ghana. I was born and raised in Kumasi – Ashanti region. I am a student offering Art Education at the University Of Education, Winneba and willing to solve problems with my art works.