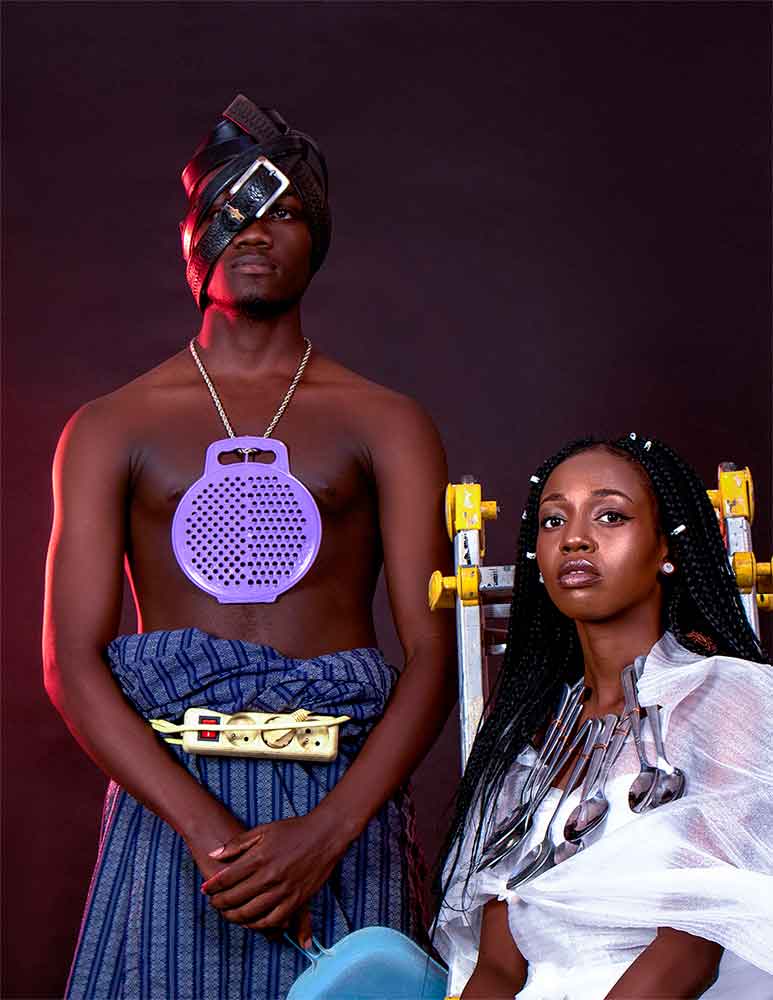 Josué Mimshe: Le royaume africain, 2021
Concept: Josué Mimshe; Modèles: BE Hope &Bong Yves; Makeup: Grace Ngako; Hair: SharonneMandjoula; Fashion: Murielle Tsague; Accesoires: Stéphanie Demonako; Set Design: Thiery Avah; Photographe: Joshua Slitter; Assistante photographe: Julie Yonke
FR: Cette de photographie a été choisie comme photo de couverture du magazine américain Top Posters au mois de mai 2021. Elle montre deux personnages dont un homme et une femme. L'homme est debout, torse nu avec une ceinture bandée autour du visage lui cachant un œil, une rappeuse à fruits et légumes autour du cou, un pagne au niveau des reins et une rallonge électrique en guise de ceinture. Il tient une pelle entre ses mains. La femme quant à elle est vêtue de blanc avec des cuillères à soupes comme collier et elle est assise sur une échelle en métal.
Ce cliché ouvre plusieurs perspectives de réflexion. D'une part pour le créatif, il s'agit de la décontextualisation fonctionnelle inspirée du Ready Made. Pour lui il s'agit de prendre certains objets du quotidien pour les détourner en vêtements et accessoires de mode. D'autre part, dans un autre registre, cette photographie questionne les rôles que tiennent les hommes et femmes dans une société où les femmes aspirent à raison aux mêmes droits que les hommes. Il questionne aussi l'implication des hommes dans les tâches ménagères.
EN: This photograph was chosen as the cover photo for the American magazine Top Posters in May 2021. It shows two figures, a man and a woman. The man is standing shirtless with a bandaged belt around his face hiding one eye, a fruit and vegetable rapper around his neck, a loincloth around his back and an extension cord as a belt. He holds a shovel in his hands. The woman is dressed in white with soup spoons as a necklace and is sitting on a metal ladder.
This photograph opens up several perspectives for reflection. On the one hand, for the artist, it is a question of functional decontextualisation inspired by Ready Made. For him, it is a question of taking certain everyday objects and turning them into clothing and fashion accessories. On the other hand, in another register, this photograph questions the roles held by men and women in a society where women rightly aspire to the same rights as men. It also questions the involvement of men in household tasks.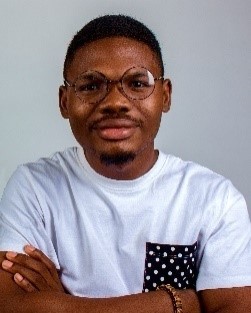 FR: Josée Mimshé est un étudiant en graphic design et multimédias à la Libre Académie des Beaux-Arts (LABA) de la ville de Douala où il vit et travaille. Il est également titulaire d'un baccalauréat en informatique-mathématique au lycée bilingue de Logpom. Il s'intéresse à la photographie très jeune et commence son initiation avec les photographes de son église. Parmi eux, on peut citer Steve MVONDO, Vivian ANOGO et Consola KABANGU. À la LABA, ses professeurs de photographie tels que ; Madame Dioné, Alain NGANN et Xavier MESSINA vont l'aider à perfectionner sa technique. Deux de ses clichés ont été sélectionné par le magazine TOP POSTER dans le FINE ART MAY ISSUE 330 en Mai 2021 et je représente fièrement mon pays le Cameroun au côté de Ermelding JING dans le WPE AWARDS NTERNATIONAL PHOTOGRAPHY.
EN: Josée Mimshé is a student of graphic design and multimedia at the Libre Académie des Beaux-Arts (LABA) in Douala where he lives and works. He also holds a bachelor's degree in computer science and mathematics from the bilingual high school of Logpom. He became interested in photography at a very young age and began his initiation with the photographers of his church. Among them are Steve MVONDO, Vivian ANOGO and Consola KABANGU. At LABA, his photography teachers such as Mrs Dioné, Alain NGANN and Xavier MESSINA helped him to perfect his technique. Two of his pictures were selected by TOP POSTER magazine in the FINE ART MAY ISSUE 330 in May 2021 and he proudly represents his country Cameroon alongside Ermelding JING in the WPE AWARDS NTERNATIONAL PHOTOGRAPHY.