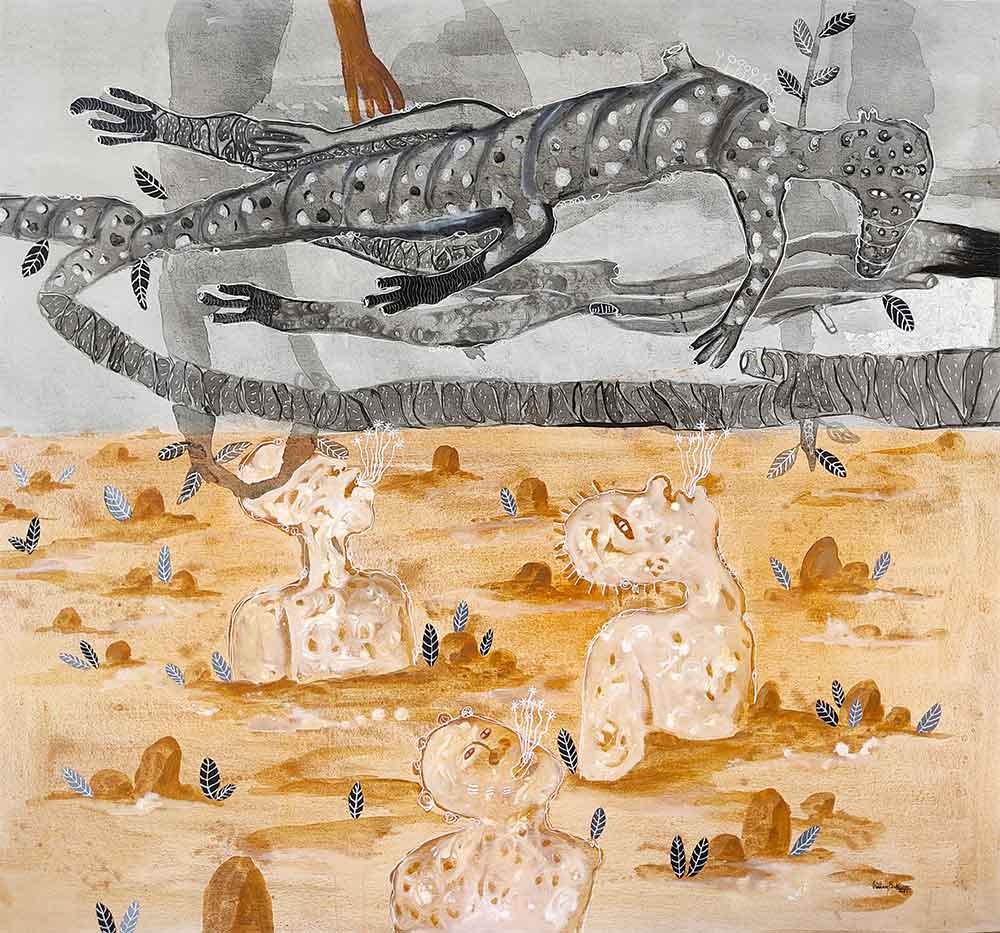 William BAKAIMO: Reconnexion aux ancêtres, 2022, Acrylique et encre sur toile, 180 x 160 cm
FR: Dans cette peinture, on voit un lézard sur des branches et des bustes de personnes sortants du sol. D'après l'artiste, ces personnages symbolisent les ancêtres qui nous parlent à travers les éléments qui forme l'univers à savoir : le vent, le feu, l'eau, les astres, les planètes. Il suffit juste de développer nos sens pour pouvoir intercepter lesdits messages. Auparavant, les initiés dans les sociétés africaines décodaient aisément ce type messages. Aujourd'hui sous les conséquences de l'esclavage, la colonisation et la modernité nous sommes coupés de cette essence. Cela est symbolisé par le sol qui semble aride et désertique mais aussi, par la tonalité grisâtre des cieux. Pour William, il est nécessaire de retrouver cette connaissance, parce qu'elle nous sortirait de ce qu'il appelle l'esprit 00.08 qui nous entraine sur de mauvais sentiers.
Il s'agit donc pour l'artiste d'interroger une nouvelle fois notre essence qui trouve sa racine dans nos rapports avec la nature. Il s'agit de rappeler certaines pratiques anciennes pour une meilleure construction de la société moderne.
EN: In this painting, we see a lizard on branches and busts of people emerging from the ground. According to the artist, these characters symbolise the ancestors who speak to us through the elements that make up the universe: wind, fire, water, the stars and the planets. We just need to develop our senses to be able to intercept the messages told. In the past, initiates in African societies easily decoded such messages. Today, as a result of slavery, colonisation and modernity, we are cut off from this essence. This is symbolised by the soil which seems arid and desert-like, but also by the greyish tone of the skies. For the artist it is necessary to recover this knowledge, because it would take us out of what he calls the 00.08 spirit that leads us down the wrong path.
It is therefore a question for the artist of questioning once again our essence, which is rooted in our relationship with nature. It is a question of recalling certain ancient practices for a better construction of modern society.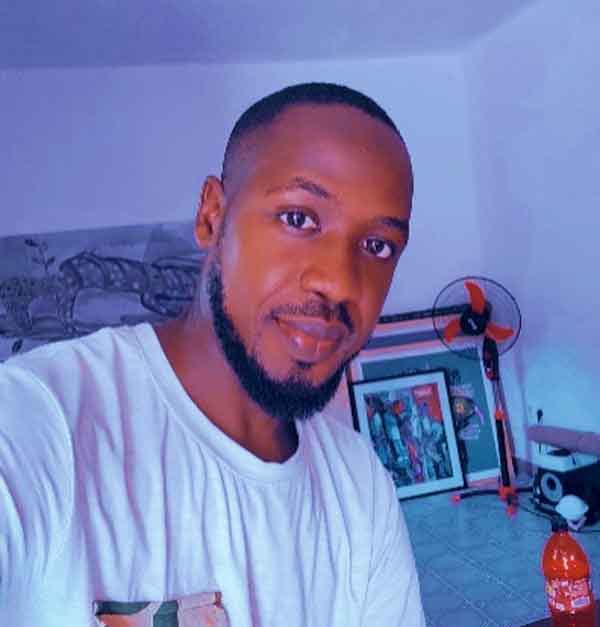 FR: William BAKAIMO vit et travaille à Douala. Il obtient un diplôme d'ingénieur de conception en beaux-arts de l'Université de Maroua en 2017. En 2018, il fait une Résidence au « In and Off Art Center » avec l'artiste Hako Hankson. Il participe à de nombreuses expositions. Parmi elles ont peut citer celle de la Galerie Claire Corcia à Paris en 2020, à doual'art la même année, celle de la Journée d'art contemporain de Carthage en Tunisie en 2019, à la Galerie La Cryde en France en 2018 et bien d'autres encore. Il est représenté par 5 Mondes Gallery. Aujourd'hui, William BAKAIMO s'efforce de créer un monde où des êtres anthropomorphes et zoomorphes cohabitent en harmonie. Dans cet univers la figure du lézard y est prédominante et incarne de manière totémique l'artiste lui-même qui essaye à chaque nouvelle proposition de créer un homme nouveau.
EN: William BAKAIMO lives and works in Douala. He graduated from the University of Maroua in 2017 with a degree in Fine Arts. In 2018, he did a residency at the "In and Off Art Center" with the artist Hako Hankson. He has participated in numerous exhibitions. Among them we can mention the one at the Claire Corcia Gallery in Paris in 2020, at Doual'Art in the same year, the one at the Contemporary Art Day of Carthage in Tunisia in 2019, at the Galerie La Cryde in France in 2018 and many others. He is represented by '5 Mondes Gallery'. Today, William BAKAIMO strives to create a world where anthropomorphic and zoomorphic beings cohabit in harmony. In this universe the figure of the lizard is predominant and embodies - in a totemic way - the artist himself who tries to create a new man with each new proposal.