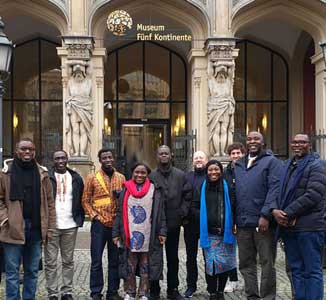 "In Europe there are the objects, in Africa there is the knowledge!" This popular view reflects a certain unease about African objects in museum collections in the Global North. For too long, the selection and presentation of artworks and artefacts for exhibitions and publications as well as their evaluation, and the information conveyed about them, have been in the hands of people who do not live in Africa or who were socialized there. Voices from Africa were and are given too little attention n the context of museums in Europe. Yet the polyphony and different perspectives about these issues create the great wealth of these collections. Different perspectives on the objects make the world views, the knowledge, the stories of life and art, the philosophies behind them actually fruitful - both for the people in Africa and for those in the Global North.
Within the framework of the project "Exploring Visual Cultures" numerous experts from several continents and from many disciplines cooperate to share their specific treasures of experience and knowledge on selected museum objects. Art historians, historians, art educators and artists from Ghana, partners in the project, visited the Museum Fünf Kontinente in Munich in November 2019. At that time we discussed the idea of making their views on the objects available. Each of the Ghanaian colleagues had chosen one or more objects in the permanent exhibition "Living Traditions. Creative Present: Art from Africa" at the museum, each of which they felt particularly addressed.
Personal approaches were just as explicitly desired as more professionally oriented contributions. The result is an exemplary transcontinental change of perspective on objects from the African collection of Museum Fünf Kontinente in the context of current postcolonial discourses within the scope of global art education and museum pedagogics.