---
For the exhibition
water bodies - narratives of the anthropocene
at Mahalla Berlin, nine artists from Africa, Latin America and Europe came together - as part of a documenta fifteen residency. They have dealt with the theme in very different ways: Their strategies
range from whistle blowing to reflection, from documentation and shocking to healing.
Juste Constant Onana Amougui, Isadora Canela, Hugo Haddad, Lis Haddad, Esther Kute, Thaís Paiva Machado, Theophilus Mensah, Shonisani Netshia, Christian Kabuß
19.8.2022 - 21.8.2022, MaHalla Berlin
In cooperation with Benjamin Merten (thx again) and Joachim Borner (Projekthof Karnitz)

Joint opening with Jim Avignon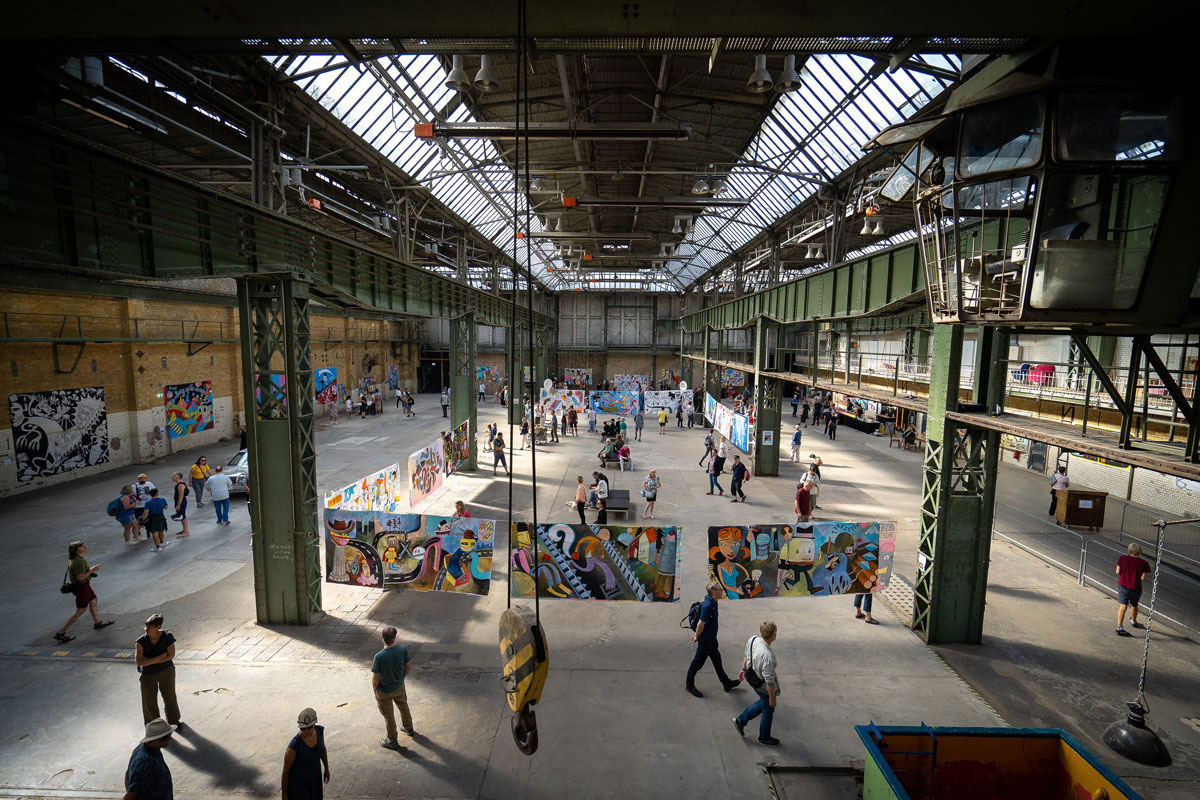 Water Bodies - Narratives of the Anthropocene
Fahrenheit -459,67 is the temperature at which paper sets fire. Brazilian artist, Isadora Canela, carefully and patiently returns to this exact temperature in her creation of the artwork with 'fire on paper'. Through experimentation, Canela reveals a dystopian landscape that once alive, now erodes, quite literally into flames. At its centre, a human figure walks away from a burning habitat and faces the spectator - desperate, bewildered and in search of words that capture a collapsing world.
The artwork was part of the exhibition Water Bodies - Narratives of the Anthropocene at MaHalla, which showed the work of nine artists from Africa, Latin America and Europe who came together as part of the documenta fifteen residency. Meeting in Kassel within the framework of the EXPLORING VISUAL CULTURES program for the first time, the artists discussed their experiences and initial research on the Anthropocene in their respective countries. A collaborative process, which made space for honest exchange and specifically a conversation particularly resonant amongst artists experiencing the global consequences of exploitation and hyper-capitalism (from Brazil, Kenya, South Africa, Ghana to Cameroon).

Fahrenheit -459,67, fire on paper, 250cm x 130cm, 2022 by Isadora Canela
After their time at Kassel, the collective went on to a residency at Projekthof Karnitz in Mecklenburg Vorpommern, here, the artists were supported to transform theoretical discourse and impressions from the documenta fifteen into art.
Rooted and guided by their own personal experiences and cultural and artistic backgrounds, each participant formed ideas related to the multifaceted Anthropocene. During these discussions, water was quickly identified not only as an indispensable source of life, but also as a carrier of stories, meaning and hope. Integrating these ideas into their making process, the group then collectively decided on techniques and materials to best translate and articulate their conversations. Over the course of the project's timelines the group realised various artworks which became site specific installations on their exhibition in Berlin.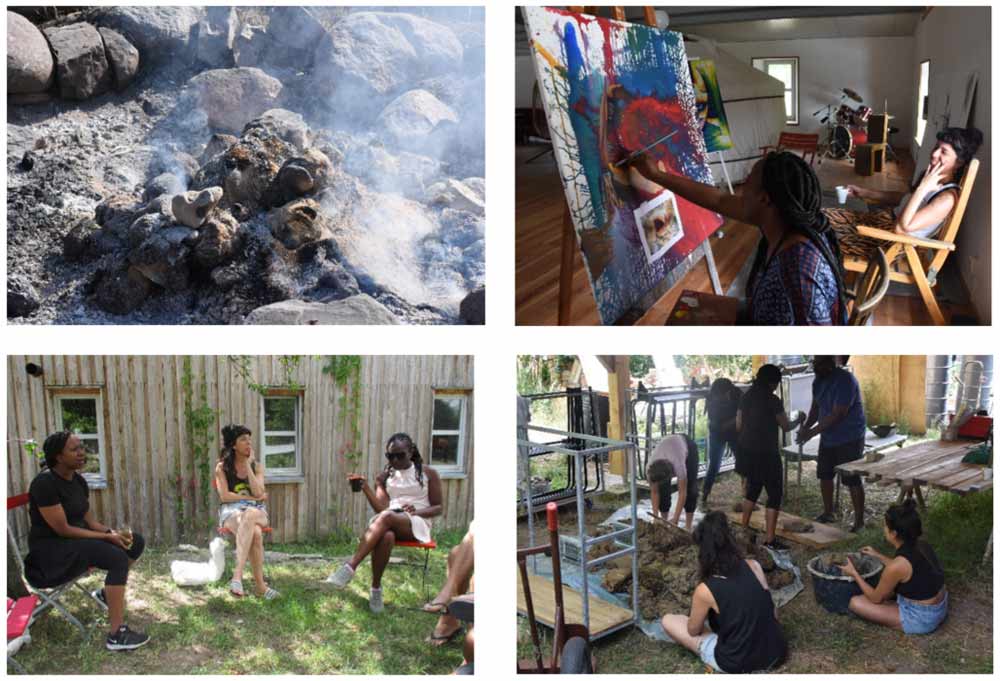 Impressions from the residency in Karnitz, taken by Juste Constant Onana Amougui
Entering the cavernous industrial hall of the exhibition venue on the day of the opening, visitors were first met by Esther Kute's, Theophilus Kwesi Mensah's, Juste Constant Onana Amougui's and Shonisani Netshia's installation, titled the Foreigner's Bag. This work was based on a bag that Kute had bought in 2015 on her previous visit to Germany. While buying the bag, she was assured it was real leather, which she intended to use resourcefully and pass on to future generations, therefore paying a large amount of money for it. However, within only four years, the bag proceeded to peel and degenerate in a way only synthetic, oil-based PU/PVC materials are capable of. Travelling back to Germany this year, Kute saw a great opportunity to return the bag to its original source.
Narratives on the Anthropocene - A personal reflection
By Joachim Borner
(1)
With the title "Narratives on the Anthropocene" – and the artistic task associated with it – there is first of all irritation: Is the topic not to be put to the sciences? Is it not their matter? This fundamental cultural technique of cognition – the sciences – would be primarily responsible for "calculating" what could be set in motion between necessities and possibilities in the societal metamorphoses. These are triggered, for example, by the climate crisis or the loss of water through overexploitation. That would be the expected narrative. And the narrators would also be fixed.
Narratives about the Anthropocene have their own peculiarities: They take place at epochal thresholds and in hyper-complex processes. Neither of them can be coped with scientifically - at least not for the purpose of being able to imagine them. Scientific-empirical knowledge is not available for this.
But perhaps – the arts can do that? Hegel and Marx propose that art is a specific form of knowledge, addressing emotions: art teaches us to know by exciting the feelings we would have if we knew. Art is recognizing and playing at the same time (Peter Hacks, Ekbal, oder eine Theaterreise nach Babylon, in: ders., Werke, Bd.9: Die Erzählungen, Berlin: Berlin Eulenspiegel 2002, S. 50) and thereby predisposed to dare to reach even hyper-complex tipping points.
(2)
That was the idea behind the residency in Karnitz. Between the summer school at documenta fifteen and the International Summer University in Karnitz, I invited nine artists from around the world to create (artistic) narratives on the anthropocene. They chose the title "waterbodies".
I have been working on narratives of the anthropocene (i.e. the capitalocene) for several years, coming from the perspective of learning and communication theory. The International Summer University, founded 18 years ago in Santiago de Chile, is a format of (artistic)....