Constantine Amougui (art historian, cultural manager, and curator in Douala, Cameroon), Isadora Canela (filmmaker and visual artist in Brumadinho, Brazil), Hugo Haddad (film maker and photographer in Brumadinho, Brazil), Lis Haddad (visual artist, jeweler and designer from Brazil / India), Christian Kabuss (painter and musician in Berlin, Germany), Esther Kute (product designer and university lecturer in Nairobi, Kenya), Theophilus Mensah (artist and university lecturer in Winneba, Ghana), Thaís Paiva (photographer and architect in Berlin), Netshia Shonisani (artist and university lecturer in Johannesburg, South Africa) have been working on a joint project that was presented at the International Summer University at Projekthof Karnitz in August/September 2022.
water bodies - narratives of the anthropocene
"water bodies - narratives of the anthropocene" is the title of the exhibition, the artists were working on, as part of an documenta fifteen residency at Projekthof Karnitz. The exibition opened on Friday, 19 August 2022, 6pm – 10pm at MaHalla in Berlin. (Visit the exhibition online.)
Moors, lakes, rivers, the sea: water bodies are carriers of stories, meanings and hopes. Water is also the basis for life and the future in the Anthropocene. Water is indispensable in the production of art. The artists have dealt with this theme in very different ways. Their strategies range from whistle blowing to reflection, documentation and shocking to healing approaches.
Public talk on Saturday, 20 August, 6pm
MaHalla, Wilhelminenhofstraße 76/Tor 1a, 12459 Berlin
In cooperation with Benjamin Merten, THX AGAIN Berlin, and Joachim Borner, Projekthof Karnitz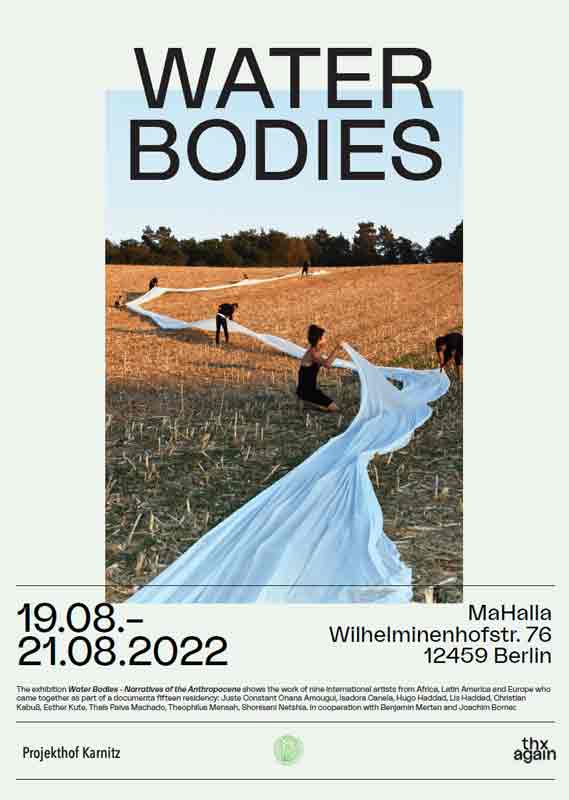 International Summer University 2022 – Transmedia Storytelling
Background
For almost 20 years, the International Summer University is working on the question how to represent the hyper-complex phenomenon of climate change irritations and, more general, the incipient changes in the 'nature' context of human cultures. In doing so, it sought to develop future-related scenarios and narrations in various forms and formats of communication (transmedia storytelling, 'story world').
This interested us artistically, but it is also rooted in the awareness that the lack of persuasive power of only scientific communication is obviously not enough to trigger action. That is why the International Summer University has refined its storytelling methods and is now working with scenarios, images and symbols.
Still open questions: what and why communicate?
Recently, KMGNE, the organizer of the Summer University, asked young people (between 14 and 16 years old) the question: "Are you afraid (of the future)?" All of them wrote they are afraid. "The ground disappears under your feet," was the frequently heard metaphor for fear, a fear of losing control over one's own sovereignty, the fear of lacking orientation in a hyper-complex reality between knowledge, attitudes and abilities. The confusion, the disorientation in postmodernity are indications of the change of times, which needs new 'Grand (Common) Narratives'.
What is missing? What now? - Summer University 2022 - Narratives for Action
The new aggregate state is trans-regional, trans-national, and cross-cultural. The challenges of the epochal change are above all cultural challenges. The Summer University 2022 tries to give space to this by inviting scholars, artists and facilitators from South America, Africa and Europe to work in the resonance networks of transdisciplinarity and multiculturalism.
We are stuck in narratives, images, metaphors, symbols that can convey to us how our contemporary world-view has developed and what alternatives there might have been in each case. Collective memory, mental infrastructures, narratives and discourses, world views, heritage and future visions - these concepts try to capture that. From these, our ancestors derived appropriate action, and from these we ourselves derive appropriate action. The narratives involved are inscribed in many forms and media: in commodities, technology, architecture and urbanism, in agriculture, landscape structures, artifacts, visualizations, media representations, and works of art. Yet they are too little addressed in existing discourses on the 'design of change' that is so much needed.
The guiding questions of the Summer University 2022 are therefore: "What can we learn from these forms and media about ourselves and our ideas - with regard to the epochal change? How can we develop and tell appropriate stories? How can we understand them? What actions in transition derive from them, what repertoire of possibilities do we have?"
Joachim Borner