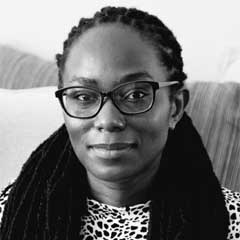 Esther Kute is an award-winning footwear, fashion, textile, accessories and industrial designer changing the world one step at a time through Design, Manufacturing, Education and Mentorship. She achieves this leading via breaking barriers throughout her life, for example, becoming the first female, African, Black and youngest ever Designer to be appointed Product Development Manager in charge of Design in 2017, and becoming the youngest senior manager in Bata Kenya at the time; and utilizing her influence within these spaces to initiate mentorship programs, lead sustainability projects and champion social design projects. The approach to Esther's practice is implementing and providing creative direction within multidisciplinary and multicultural collaborations that improve lives and communities. Esther has a Bachelor of Arts in Design (Honors) from the University of Nairobi, footwear design training from Italian ARSUTORIA School / Shoe and Bag Design University, a Masters of Arts in Design. She is currently a doctoral researcher focusing on transdisciplinary design for her PhD. Her designs have featured in New York Fashion Week, Vogue Magazine amongst others and change lives.
As a Design Educator at the Technical University of Kenya, Esther emphasizes breaking down stereotypical norms and building confidence in her design students through practical learning methods such as dance, reflective journaling and a critical analysis leading to dismantling of the systemic barriers we face. Her teaching methods reflect her experience in theatre and performing arts. Esther is passionate about mentorship; apart from holding yearly informal mentorship cohorts, she initiates and collaborates on structured mentorship programs within organizational spaces she finds herself in, like the Bata Designers Apprentice 2017-2018, Bata Young Designers Challenge 2019.
She is a published co-author of the book chapter "The shoes on my feet: A visual culture of footwear in Africa" in the book "Visual Cultures of Africa" (2022) and "A Kenyan Savannah,2007" in the book "Collective Memory: Visual Perspectives from Cameroon, Germany, Ghana, Kenya & South Africa" (2022).
Esther Kute's contributions to the galleries section of this website: