Commemoration offers collective memory tie - monuments and rituals fix and affirm collectivity
This article is a brief exploration of collective memory through visual culture in Kenya. In exploring Kenya's visual culture, we overview East African Independence monuments hoping to provide clues on how the monuments do not always fix and affirm collectivity. In other words, Kenya's visual culture and collective memory are somewhat disconnected, which appears to contradict Halbwachs' thesis "Commemoration offers collective memory tie to society and its conceptions where physical monuments and rituals fix and affirm collectivity" (Wikipedia May 2022). That the Kenyan collective memory appears to contradict many years of scholarly work is amazing but difficult to fully explain in this short piece; we need to proceed with the business at hand. In order to forge ahead in our undertaking, we adopt the view that collective memory is "community or family memories influencing views on life" (Wood et al 2015). In Kenya, collective memory depends on the ethnic community (one people speaking one language), the magnitude, extent and impact of the event. Our other view on the subject is that Kenyan visuality is sometimes used by authoritative bodies in ways that do not have the desired effect. At the same time, grassroots collective memory often thrives and perpetuates itself. In this undertaking we confine discussions to a few examples.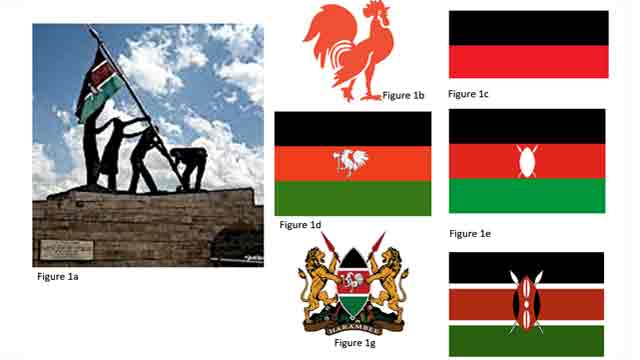 Our brief exploration includes discussions on Independence monuments of Kenya (Figure 1a). We also discuss Kenya African National Union-KANU emblem (Figure 1b) and flag (Figure 1c) because it is the political party that received Independence from Great Britain. It is rather clear that the founding political party developed, if not approved, the national flag (Figure 1d) similar to its own flag. Finally, we discuss the World War II monument in Nairobi because the war educated KAR soldiers on racism and colonialism; WWII soldiers helped to shape the political destiny of Kenya. We also discuss pre-Independence flags in order to provide one example of visual culture that existed with intentionality determined by the colonial regime.