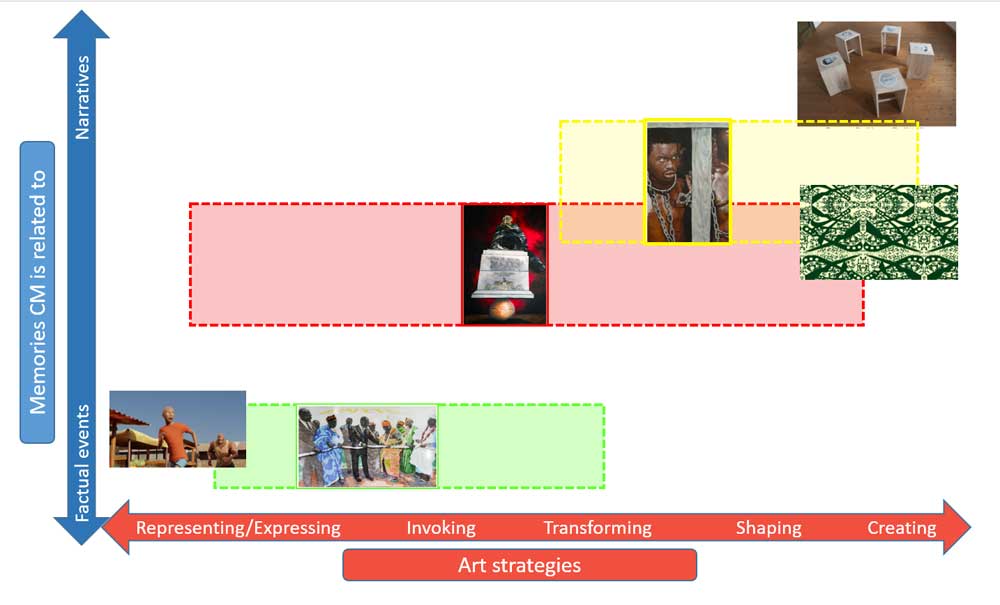 Placement of the works selected for the memory section, mapping them against the category of art strategies
All examples we discussed above show that collective memory always has a very high interpretative component, is always constructed – of course in various gradations. We have to reflect on this observation in the context of philosophical epistemology which postulates that a recognised object is always constructed by the observer himself through the process of recognition (Watzlawik, 1981). In the case of collective memory, we must then speak of a social construction. As visitors of the virtual exhibition, we can only perceive the perspective of the artists exhibiting here. This makes this aspect of constructed-ness particularly clear once again.
This understanding draws our attention to the producers of the interpretations and narratives, to the artists. They created the works. But what are they actually doing in their art? What strategies do they choose when it comes to such a challenging subject as collective memory? What is their approach? This will be briefly discussed in the last section, using the same examples as before.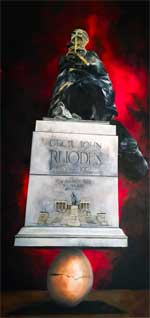 Tlotlo Sereisho, Rhodes Must Fall, a Mengelmoes: Tlotlo Sereisho chose an unexpected combination for the title of his painting. The part "Rhodes Must Fall" fits well within an exhibition about collective memory, as it refers to a historical event. But "a mengelmoes" (an Afrikaans word meaning hodgepodge) is rather uneasy. Through this word, the artist first of all names the surreal montage character of his work (balancing a monument on an egg), but he also introduces a linguistic mixture of English and Afrikaans. The consequence of his artistic strategy reveals itself in his own comment. He explains that he is using / appropriating the historical event to symbolically condense his daily experience of "still pending ... apartheid" and at the same time to agitate in the society ("exhortation") (Tlotlo Sereisho in his comment). To be consistent, he thus has to mix a broad range of different artistic strategies, more so than his colleagues discussed here in this chapter. From representation to creation: mengelmoes.
---
Continue with the last part, the exploration of theoretical concepts about collective memory: Link